We've seen little in the popular press about the secretive 86-year old Robert "Bob" Emmanuel Hecht, Jr., shaman of the antiquities trade, in between news of his trial this week in Rome for trafficking in stolen art and his sale of the Euphronios vase …


The Provenance Of Bob Hecht
By Suzan Mazur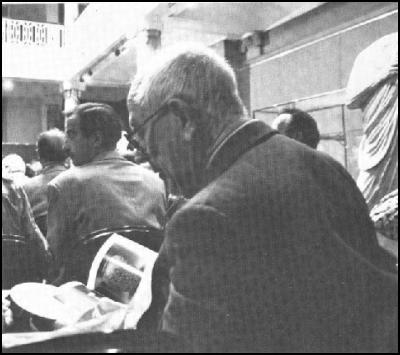 Photo: Robert "Bob" Emmanuel Hecht, Jr., unsigned? back shot, now-defunct Connoisseur magazine (10/90) — "Smugglers: The Turkish Connection"

We've seen little in the popular press about the secretive 86-year old Robert "Bob" Emmanuel Hecht, Jr., shaman of the antiquities trade, in between news of his trial this week in Rome for trafficking in stolen art and his sale of the Euphronios vase to the Metropolitan Museum for $1million over thirty years ago. And that's the way Hecht likes it. He prefers to operate under the radar.
However, through the years his combativeness has brought him controversy in various circles. I'm not just talking about the time Hecht attempted to punch me in the face in response to my mention of him in a story I wrote for the Economist magazine ("The Hunts' hoard on the auction block" 6/23/90). It seems Hecht's fist is legendary, as far back as his college years in Pennsylvania.
The late New York Times' John L. Hess, remembered for his honest reporting about art and politics, devotes two chapters in The Grand Acquisitors (Houghton Mifflin – 1974) to the Euphronios vase Hecht sold to the Metropolitan Museum in 1972 when Tom Hoving was director. In "The Chase", Hess cites Vladimir Steffanelli, the late curator of coins at the Smithsonian saying, "There are two Hechts. One is the scholar; the other would try to make some sort of success in a more practical field. Bob would give you the shirt off his back. But he can become extremely haughty. . . . Stealing he would not do. Illegal digs – hah! That's another story."
Hess had this to say about Hecht the knock-out artist:
". . .[Hecht's] temper was widely feared. Classmates recalled fistfights at Haverford College and at the American Academy in Rome. He was persona non grata in Turkey, over a matter of some coins he had been carrying on an airplane without an export permit; and he had been accused in Italy of possession of stolen antiquities, but had never been convicted."
Perhaps because of his explosive character and the fact that he regards himself an ancient art scholar/dealer, he has kept his visibility largely within a tight "professional" circle. Let's take a closer look then at Hecht's professional "patina" and some of the circle in which he travels. . .
But first, just why is Italy putting Hecht and former Getty Museum antiquities curator Marion True on trial for trafficking in stolen art and at long last pressing for the return of ancient treasures from five major American museums — the Met, Getty, Museum of Fine Arts-Boston, Cleveland and Princeton?
Italian prosecutors say they think they've nailed Hecht, True and Italian dealer, Giacomo Medici (already appealing an antiquities trafficking conviction) because they have Polaroids of the accused with the goods.
As for the campaign for repatriation of art — it appears the Italian people have finally succeeded at undermining an unpopular prime minister Silvio Berlusconi, who has pushed to slash funding for museums when the Uffizi wants to double the size of the Louvre, and attempted to reward looters with a 5% commission for digging up as many of Italy's ancient treasures as possible. Not to mention the disastrous Berlusconi-Bush administration alliance and scandal over forged Niger documents regarding "yellowcake" that kicked off the Iraq War, a plot now widely reported to have been put in play in Rome by "former" Italian police/intel and the mysterious "La Signora".
So, Hecht, grand wizard of the antiquities world, midst all this appears in a court in Rome this week with Italy seeking the return of not only the complete Euphronios vase Hecht sold to the Met (at the top of the list), but the fragmentary Euphronios vase that wound up in the collection of Nelson Bunker Hunt as well, and about 70 other pieces from the above-named museums. The fragmentary vase was probably acquired by Hunt through one-time top coin dealer Bruce McNall; it is not clear if Hecht had the fragmentary vase first, although he probably knew about it first.
The fragmentary vase — 75% plastic, according to Sotheby's; 50% plastic according to Hoving — now belongs to collectors Leon Levy and Shelby White and is on loan to the Met. It sold at the Sotheby's 1990 auction for $1.7 million and is worth considerably more 15 years later.
A Euphronios wine cup unsuccessfully peddled by Hecht to the Met for $70,000, and sold by Sotheby's on behalf of Bunker Hunt for $742,000 is also worth millions today. It is the earliest piece signed by the ancient master (there are only 18 surviving Euphronios pieces) and bears the same death of Sarpedon narrative from Homer's Iliad as the Met's complete Euphronios vase. The cup is now apparently in the possession of the Italian government. [See… Scoop: Suzan Mazur: Euphronios Ancient Art In Court ]
Authorities also want the contested Bronze Etruscan candelabrum repatriated that Hecht sold to the Getty in 1990, which they say was stolen from a private collection in Florence and smuggled by Giacomo Medici.
The 1972 purchase of the Met's complete Euphronios vase was opposed at the time — courageously — by Ancient Near East Met expert Oscar White Muscarella. Muscarella was subsequently fired by Hoving over the issue and later reinstated with a less prestigious title after an appeal to the Met's board of trustees, which includes the mayor of New York — then Hoving-pal John Lindsay. Muscarella has commented that "if Hecht tells you an artifact's fake, you can believe the opposite is probably true."
Hecht and his wife pleaded with New York Times mafia-beat reporter Nicholas Gage in Rome shortly after the Met's Euphronios purchase in '72 not to print a story about the details of his involvement with the sale, according to John Hess in his Grand Acquisitors book. But the Times ' story went to press on schedule. Hess wrote that Hoving called it a "frame-up, organized by the Times ".
However, there is also some evidence of the Bob Hecht who would "give you the shirt off his back". In a Q&A posted at Heritage Galleries & Auctioneers website between Elvira Clain-Steffanelli, wife of the late Smithsonian coin curator Vladimir Steffanelli and a Smithsonian coin curator herself, and interviewer Mark Van Winkle — Clain-Steffanelli tells how Hecht helped the Romanian couple emigrate from Italy where they had been working for the Santamaria numismatic firm. And before that were "guests" of the Nazis at Buchenwald.
"My husband got a proposal from a wealthy American, a member of the Hecht family. They owned several department stores in Baltimore. One of their sons had studied archaeology, but decided to go into the coin business. He made my husband an offer, asked him if he would want to come to the United States and join him. My husband said yes. Well, after that, it took about two and a half years to be able to come to the States. That's how Hesperia Arts was formed. He and Robert Hecht were partners. Our office was in a very fancy building on 300 East 57th Street. That's where I got knee-deep into coins.

Then about 1953, Hesperia Arts sort of folded slowly, gently. It didn't go bankrupt. Hecht decided to stay in Europe. We decided to stay here."
Hecht's arrogance though — or extreme haughtiness, as Vladimir Stefanelli also observed — appears to stem from family money. The source of his anger remains elusive. It's possible he felt shadowed by his great-grandfather's success in the Hecht department store empire and chose notoriety instead.
Robert "Bob" Emmanuel Hect, Jr. is the great-grandson of Babette and Samuel Hecht, Jr., a German-Jewish peddler who emigrated from Heidelberg to the Baltimore region in the 1840s. Sam Hecht founded Hecht Company in 1857, a furniture store that eventually evolved into a chain of 81 US department stores.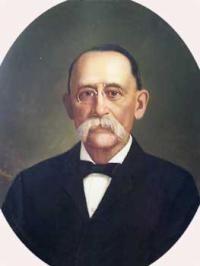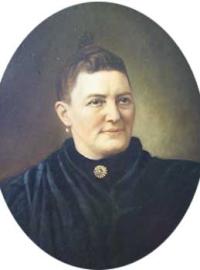 Department store mogul Samuel Hecht, Jr. and his wife, Babette Hecht. Credit: Maryland Historical Society and painter Paul Hallwig
In the late 1800s, the company added moderately-priced clothing and carpets. When Sam's sons entered the business — Emmanuel, Alexander, Albert and Moses — he updated the store's name to Samuel Hecht, Jr. & Sons. During WWII, the family dipped a bit into politcs with the store pushing the sale of war bonds.
However, by the late 1950s, the family money began to dry up and Hecht's merged with May Company. What was left of the Hecht department store chain was acquired in August 2005 by Federated and next year, 2006, the name Hecht's will morph into the Macy's logo.
After Bob Hecht's graduation from Haverford College in Pennsylvania and his Hesperia venture, he made Rome his home for the next two decades. He lived on Aventine Hill near the Forum with his wife, a woman originally from Massachusetts.
Publicity surrounding the Euphronios pieces that Hecht handled, which the Italians charged even in the 1970s were looted from Etruscan tombs, may have prompted Hecht to move again, this time to Paris, where he currently resides. He also opened a gallery in New York called Atlantis Antiquities, Ltd. at 40 East 69th Street. That gallery is now closed although Hecht still keeps an apartment in Manhattan.
I first met Bob Hecht about 15 years ago through Turkish journalist Ozgen Acar. I attended a small informal gathering in the storage area of Hecht's New York gallery prior to the Soethby's-Hunt auction. It was dark inside with workers, Italian I believe, feverishly moving about.
Hecht was impersonal, I recall. I noted at the time that he mentioned a Roman Bronze male nude statue (height roughly 4′) Sotheby's would later auction for Hunt and fetch $490,000 was a fake. There wasn't much bidding on the piece. So the word must have gone out. But applying Oscar Muscarella's analysis, if Hecht said it was fake, the piece was probably genuine and the Japanese buyer got a bargain.
Hecht knew the Munich-based Turkish antiquities dealers Acar and Melik Kaylan profiled in an article for the now-defunct Connoisseur magazine called "Smugglers: The Turkish Connecton". In the piece, written while Tom Hoving coincidentally was editor of Connoisseur, Acar and Kaylan had this to say about Hecht:
"But most other dealers in "important" antiquities do not share [Elie] Borrowski's hesitation about dealing with the new generation [of yourng Turkish smuggler-dealers]. One is the American Robert Hecht, a resident of Paris, who owns the elegant Atlantis Antiquities gallery, on Sixty-ninth Street, on Manhattan's East Side. Hecht is on good terms with both Edip Telli and Fuat Uzelmez [identified in the article as Turkish antiquities smuggling kingpin and top lieutenant, respectively]. Hecht's younger daughter calls the latter "Uncle Fuat". In fact, we recently caught up with the elusive Fuat at a reception in Hecht's gallery. (He promised us an interview at his hotel the next day, but when we phoned to confirm the time we learned he had already checked out and had left for the airport.)"
In fact, the interview was promised to me. And, yes, it is true that as I waited for Uzelmez in the hotel's cafe, a block or so from Hecht's Atlantis gallery, he was en route to the airport.
I next ran into Uzelmez at a Hesperia Arts auction in New York in November 1990. I mentioned the Connoisseur "Smugglers" article and Ozgen Acar, who I'd collaborated with on a piece for Connoisseur the previous year. Uzmelmez, with Turkish-Syrian good looks and living up to his reputation as a playboy, put his arm around me on the way out of the auction. Then he whispered in my ear: "We are going to kill him [Acar]."
It's unclear what Hecht's stake was in Hesperia Arts Auction at the time, but his firm Atlantis Antiquities as well as Hesperia Arts Auction, Ltd. on 57th Street were listed on the opening page of the auction catalog as the only two exhibition places to view the collection (by appointment only).
Bruce McNall of Numismatic Fine Arts also had pieces in the auction, although he did not attend. McNall sold coins – including an Athena silver decadrachm (465BC) – and many other antiquities to the Hunts. McNall also first introduced the Hunts to the Kimball Art Museum where their fragmentary signed-Euphronios vase (now at the Met), wine cup (now with Italian authorities) and Athena coin (probably returned to Turkey) were first exhibited in 1983.
McNall was involved in a lot of businesses at the time, including ownership of the LA Kings hockey team; he later went to jail for overvaluation of ancient coins in a venture with Merrill Lynch. In 1988 (as I reported in the Economist 6/23/90 — "The Hunts' hoard on the auction block"), "McNall tried to sell at auction a number of coins found in Emali, in Turkey, in 1984, which had been consigned to him by William Koch, an oil heir and a trustee of the Boston Museum of Fine Arts. During the auction the Turkish government appeared, claimed cultural patrimony and regained possession of the coins, which were said to be smuggled out of the country by the Turkish mafia."
The following year 1991, after covering the Colombian drug war and Gulf War back- to-back, I traveled to Munich on assignment for Connoisseur to profile Munich-based Turkish antiquities dealer Aydin Dikmen, meeting my co-author Ozgen Acar there. I believe Hecht was also in Munich at the time.
Since Acar was known by the dealers, I went solo for a chat at Edip Telli's Galerie Gryphos at #5 Ottostrasse, which was outwardly a normal looking shop, housed in a glass and marble building near a park. But there were no clients inside. Telli was having trouble with his back (he's since retired, largely because of Acar's expose), and was seated in a backless Swedish chair resting on his knees. Telli made some remarks about the health benefits of the chair and drew my attention to a Roman mosaic he had propped up in the shop. The conversation was uneventful.
Next I visited Uzelmez at Artemis Galerie on Maxmillianplatz, #12A, 4th floor, startling him at the door with a pair of flashy sunglasses. He appeared amused and invited me in for coffee. He also had no clients. Uzelmez, said he knew Aydin Dikmen 30 years and, in a gesture of approval, kissed his fingertips saying, "He makes the best fakes!"
Dikmen was arrested several years ago in Munich with a hoard of antiquities plastered inside his apartment walls. A former business associate, Dutch art dealer Michel van Rijn, noted the Bavarian police considered it "the largest mix of stolen art and antiquities recovered since caches of Nazi loot were traced after World War II." [See… Scoop: Mazur: Getting To The Bottom Of The Dorak Affair]
Van Rijn also described Bob Hecht on his website earlier this year:

"You see him sometimes in a street behind the Assemblee in Paris or darting down Madison Avenue in New York. You think who is he running from or where is he darting lizard-like, this not quite inconspicuous old man with his feathery white hair, the vague startled eyes behind the thick lenses of his black lightweight glasses, the soft comfortable shoes, the stained blazer and the off-white shirt? He avoids your eye. He has something to hide. He is late for lunch. Later you see him again, dyspeptic, boborygmic from too much of the entree, shuffling by, eager to avoid you, to avoid everyone . . . why, you think, why, what is it that Bob Hecht is running from? . . ." [See… Michel van Rijn – Art News]
It's possible we may soon find out.
*************

Suzan Mazur's stories on art and antiquities have been published in The Economist, Financial Times, Connoisseur, Archaeology (cover) and Newsday. Some of her other reports have appeared on PBS, CBC and MBC. She has been a guest on McLaughlin, Charlie Rose and various Fox television news programs. Email: sznmzr@aol.com
Content Sourced from scoop.co.nz
Original url