With Boston's Museum of Fine Arts nearing an accord with Italy over its collection of classical art acquired primarily from Italy both before and after the1983 UNESCO curb on antiquities trafficking – I thought it might be interesting to revisit a …


First Peek At The Ancient Art Italy Wants Back From Boston's Museum Of Fine Arts — Plus — A Chat With Bob Hecht Mfa Pal, Cornelius Vermeule
By Suzan Mazur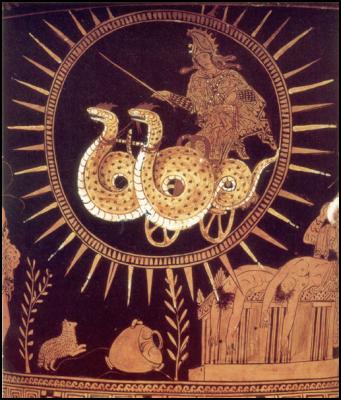 Medea in Flight – "I'd kill for number 14." — Cornelius Vermeule, June 1990 Image Source
Hunt-Sotheby's, lot #14: Calyx krater, Lucania, South Italy, 400 BC. Detail of the final scene from Euripedes' Medea with Medea fleeing in a chariot drawn by crested serpents, following the murder of her children. She is dressed in an ornate robe and Phyrgian tassled helmet, the chariot surrounded by a "solar mandorla". The vase sold above estimate for $360,000 (before sales tax). But where is it now?
With Boston's Museum of Fine Arts nearing an accord with Italy over its collection of classical art acquired primarily from Italy both before and after the1983 UNESCO curb on antiquities trafficking – I thought it might be interesting to revisit a conversation I had with Cornelius Vermeule III, MFA's "swashbuckling" curator of classical art for almost 40 years (1957-1996).
Vermeule has also shared a long friendship with Bob Hecht, the dealer now on trial in Rome for antiquities trafficking, and he's acquired important antiquities from him as well — like the beautiful statue of Sabina — in which Hecht acted as "agent" for the November 1979 transaction. Hecht also sold an oil flask (lekythos) to MFA in November 1989, and in 1991, a South Italian amphora that he first owned was sold to the museum, depicting the murder of Atreus.
Other Hecht MFA sales, are less clear and the museum prefers to be mum about such acquisitions.
However, Hecht did tell Walter V. Robinson of the Boston Globe, that in mid-1997, shortly after Vermeule's retirement, he sold MFA a skyphos, an ancient silver cup valued at more than $400,000
. Asked its origin, Hecht responded: "What does it matter?"
Vermeule like a good friend wrote an introduction to Hecht's 1988 Atlantis Antiquities Greek & Roman Archaic art show catalogue of mostly unprovenanced pieces, recently discussed here. [See… Add NYT To Bob Hecht Antiquities Ring Organigram?]
One of the stars of that show, an Etruscan terracotta votive head of a woman from 500 BC, Hecht described as "one of the finest pieces to have survived in clay". Its whereabouts are now anyone's guess.
Vermeule was also in the middle of the MFA's acquisition of the top half of the Herakles statue looted from Turkey (the bottom half is still in the Antalya Museum) and he authenticated priceless Athenian coins looted from Turkey that were sold to oil magnate/MFA trustee William Koch.
The coins have all now been recovered by the Turkish government, according to Larry Kaye, whose law firm has represented the Turkish government on various disputes involving ancient art, including the Lydian Hoard, which went back to Turkey in the early 1990s after a quarter century in the Metropolitan Museum of Art's basement.
Vermeule's late wife, Emily, was a Harvard archaeology professor who taught former Getty museum curator Marion True. Marion True is now Hecht's co-defendant in the Rome trial.
Following is the list of ancient art Italy now seeks the return of from Boston. Most of it was acquired on Vermeule's watch: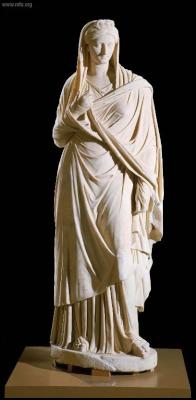 Sabina — Hecht acted as agent for Fritz Burki (restorer of the Sarpedon Euphronios vase) in the 1979 Sabina sale to MFA.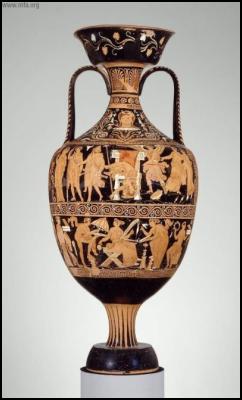 Amphora depicting Murder of Atreus — First owned by Bob Hecht.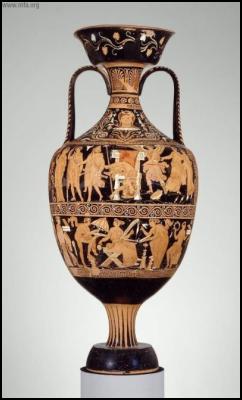 Vase for Bath Water — Sold to MFA by dealer Jerry Eisenberg in 1988.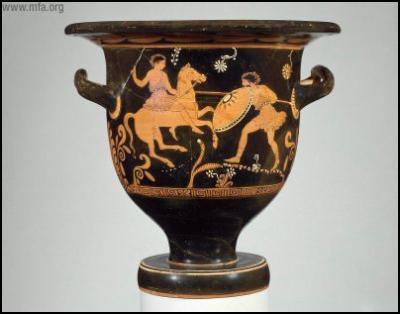 Mixing Bowl — Hoppin Painter — Sold to MFA by Jerry Eisenberg in 1988.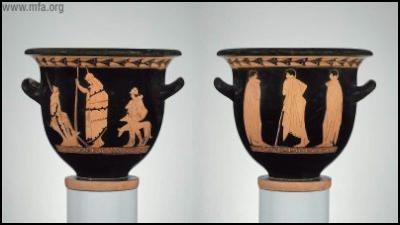 Mixing Bowl — Thracian Hunters

Oil Flask — Diosphos Painter — Hecht sold to MFA in 1989.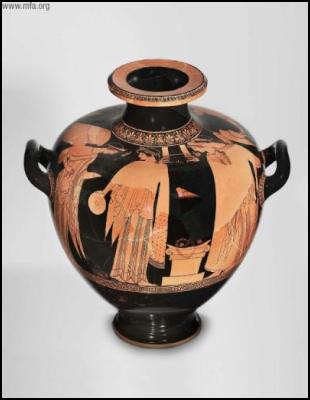 Water Jar — Berlin Painter — Cornelius & Emily Vermeule gift to MFA, 1978.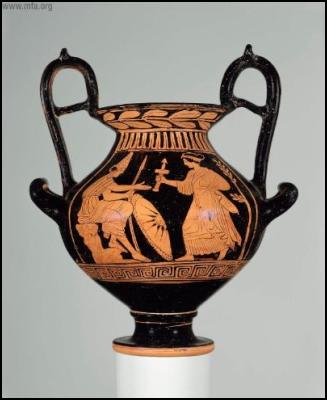 Lucania, South Italy vase — MFA bought from Swiss Collector Leo Mildenberg in 1971.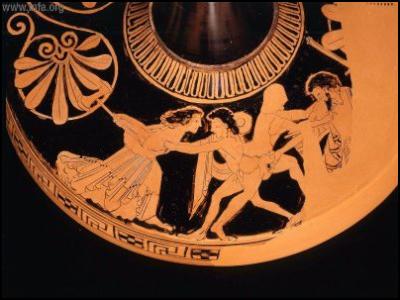 Lekythos — Gift from Cornelius & Emily Vermeule to MFA in 1977
Pelike
Hydria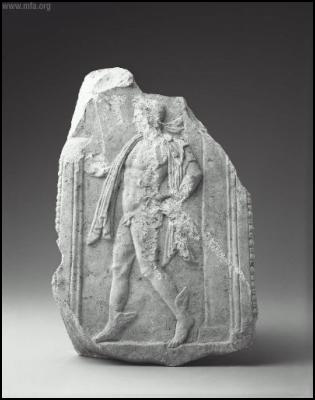 Candelabrum Support — Gift of Cornelius & Emily Vermeule to MFA in 1992
Cornelius and Emily Vermeule were also a footnote to the half-century-old Dorak Treasure mystery – "dreamed up" by British archaeologist James Mellaart – as reported on this page [ Scoop: Suzan Mazur: The Dorak Affair's Final Chapter].
It seems that in 1970 "bits of Dorak" were actually thought to have materialized. Jimmie Mellaart still claims the Dorak Treasure is real, originating from two royal tombs of the Yortan culture in northwest Anatolia (Turkey) – a culture which doesn't exist, according to Mellaart's former British Institute of Archaeology colleague David French, who served as BIA's director in Turkey for three decades and was a co-discoverer with Mellaart of the celebrated ancient city of Catalhoyuk fifty years ago.
But the myth of the Dorak Treasure was still so powerful in 1970 in the mind of the public, that pieces of Dorak were thought to have turned up in an MFA exhibition of unprovenanced ancient Near East art, a "golden hoard". Cornelius Vermeule was curator at the time.
Patricia Connor and Kenneth Pearson, authors of the book, Dorak Affair, told me in London in 1991 that New York Times writer Karl Meyer rang them up about the coincidence. There was also a buzz in the archaeology community that the collection was a forgery, but the Vermeules said no way, with Cornelius remarking that "whatever the origins of the jewellery, wherever it was found, it is not a forgery."
An editorial in Antiquity described the Boston collection this way:
"In January the Boston Museum put on exhibition 137 pieces of 10-carat jewellery weighing 22 lbs., including a large six-strand necklace of twisted spirals, and a diadem with ten looped chains and hanging pendants. One of the most remarkable items in this collection is a gold Egyptian cylinder seal said to have belonged to an official at the courts of two fifth-dynasty pharaohs who ruled between 2497 and 2450 BC."
The Vermeules decided to make a statement about the Boston collection in the March 21, 1970 Illustrated London News:
"A couple of journalists in London have tried to create "a scandal"over the acquisition of this group. . . . It would have been far more scandalous for it to continue its peregrinations, with a prominent American museum bidding for the cylinder seal alone because the rest was non-Egyptian."
But my interview with Cornelius Vermeule, which follows, was about yet another scandalous espisode, the Hunt-Sotheby's sale of June 1990, in which an antiquities collection without provenience which Bunker and Herbert Hunt purchased from dealer Bruce McNall via Bob Hecht via Italian art dealer Giacomo Medici, was put on the block with profits going to the Internal Revenue Service.
Medici's appeal of a 10-year sentence for antiquities trafficking will be heard in October in Rome. McNall is no longer in the antiquities business and he went to jail in the 1990s for "bilking banks" out of $200 million.
At the time of the Hunt-Sotheby's auction, I was especially interested in Vermeule's comments about the most expensive piece for sale: a 2nd Century A.D. Roman Bronze figure of a youth estimated at $800,000-$1.2million. Sotheby's said the piece was "derived from a prototype of the 5th Century B.C."
Hecht and his Atlantis gallery financier, Jonathan Rosen, were more blunt. They told me and Turkish journalist Ozgen Acar that the statue was a fake. And, indeed, something did seem to be wrong with it since there was very little bidding. In fact, it sold way below estimate – for $490,000 (plus sales tax) to a Japanese dealer.
Curiously, the Bronze nude had been previously exhibited in the CINOA in Amsterdam (1972), at the Met (1974-75), at Andre Emmerich's gallery in New York (1975) and at the Museum of Fine Arts, Boston (1978-1979). It's unclear exactly when the Hunts acquired it, but the statue appears in the 1983 Kimbell Art Museum catalogue, Wealth of the Ancient World, as part of their collection. My notes say McNall picked it up in Basel, Switzerland.
Sotheby's describes the piece in its catalogue as: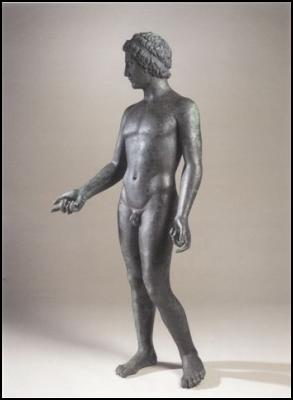 "[S]imilar in pose to the Idolino of Polykleitos, standing in a graceful attitude with his weight on the right leg, the head turned to his right, his hands each open in an expressive gesture, the face with full outlined lips, straight nose, and large eyes inlaid with silver, the irises engraved and pupils indented, his thick curly hair radiating from the crown in overlapping striated locks, and bound in a fillet with engraved borders. Height 45 ½ in. (115.cm.) . . . The author [of the Wealth of the Ancient World catalogue] suggests that this bronze, which is of exceptionally large size, may have once functioned as a lamp-bearer, of a type known from Pompeii. . . ."
Here now are excerpts from my June 1990 interview with Cornelius Vermeule , who also liked to go by the name of Isao Tsukinabe when donating to MFA:
Cornelius Vermeule: Very large [the Roman Bronze]. It's not a very beautiful work of art in terms of slick green patina kind of sinuous male or female anatomy sort of bronze that a lot of people like – of which there are others in the collection. But it's a rather powerful young man of the end of the Roman Republic/beginning of the Roman Empire slightly traditional style that goes back to the 5th Century BC.
It's a splendid eclectic piece of the early Empire and it's just plain. What you call life-size or nearly life-size – 2/3rds life-size. It's kind of under life-size for a human, but it's still no sort of piccolo Bronze – no table top thing. It's, in that respect, very impressive.
Suzan Mazur: It's very much intact, is it?
Cornelius Vermeule: Yes.
Suzan Mazur: It's the most expensive piece that's going to be auctioned, I believe.
Cornelius Vermeule: Is it? I haven't looked.
Suzan Mazur: The estimate is $800,000 to $1.2 million.
Cornelius Vermeule: It seems quite reasonable by today's market, considering the $1million to $2million tickets on almost every masterpiece right now and the price Mr. Herbert Hunt paid for it. The piece was on exhibit at the Museum of Fine Arts. Andre Emmerich owned it then. . . .
I think to quote Andre Emmerich's famous quote about the market, which goes back to Winston Churchill – "Certain pieces are or are not the tide which raises all boats." Well this is going to be right up there surging on the beach with the best. Appropos to the Cycladic piece that Asher Edelman bought [through Ed Merrin from Sotheby's for $2.2 million outbidding dealer Robin Symes shopping for the Getty].
It [the Bronze nude] will fetch more than the estimates and the estimates are low. So in the forefront of the charge up Lookout Mountain at Gettysburg – I'm really mixing the metaphors – except I wouldn't want to lead Pickett's charge wearing what he's wearing.
Suzan Mazur: And what about the Euphronios pieces? Do you think these pieces are probably from the same group?
Cornelius Vermeule: Somewhat related to the Metropolitan [Museum of Art] krater, but that was just sort of hearsay, gossip, because they did appear roughly about the same time. The Euphronios krater in the Hunt collection came along later. And as I've said and said years ago at the time the Metropolitan acquired the Euphronios – Euphronios as a major Athenian vase painter at the end of the 6th Century [BC], one of the great masters beginning the 5th Century [BC], is found from southern Russia to North Africa to Spain.
Euphronios vases are found all over the place. Indeed, at the time the Met acquired its Euphronios krater – John Hess and Nicolas Gage, who's gone into books mainly about his mother. . . The coincidence that two [[Euphronios]pieces turned up in two years is not unusual. If not the Michelangelo of Greek vase painting, he certainly is on par with the great Renaissance masters.
Suzan Mazur: But the themes were related [Met's Sarpendon Euphronios vase and Hunt's Sarpedon Euphronios wine cup on the block at Sotheby's]. The death of Sarpedon.
Cornelius Vermeule: These artists – once they got onto a good subject, they would turn out quite a few vases of the same subject. . . . How many vases were attributed to Euphronios? About 25-50 vases.
Suzan Mazur: Can you comment about Ed Merrin's Anatolian "miniature masterpieces", which he sold for $1,000 each? According to Bob Hecht's financier, collector Jonathan Rosen, who donated 500 such animal miniatures to Boston MFA, the pieces after testing were fake. Rosen said Merrin did not test his. [ Scoop: Merrin Gallery In Italy's Antiquities Dragnet?]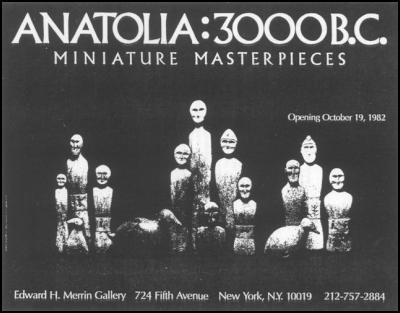 Cornelius Vermeule: I don't think he [Merrin] produced a catalogue [about the Anatolian miniatures]. But he's right there on 57th Street. Call his secretary Linda.
Suzan Mazur: Which is your favorite piece in the Hunt-Sotheby's auction?
Cornelius Vermeule: The Medea. I'd kill for #14.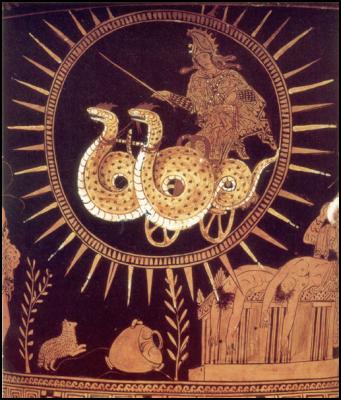 Medea in Flight – Image Source
Suzan Mazur: Will you be attending the auction?
Cornelius Vermeule: We'll be present. We'll be, as the Japanese say, ekking out a slender existence.
*************

Suzan Mazur's stories on art and antiquities have been published in The Economist, Financial Times, Connoisseur, Archaeology (cover) and Newsday. Some of her other reports have appeared on PBS, CBC and MBC. She has been a guest on McLaughlin, Charlie Rose and various Fox Television News programs. Email: sznmzr @ aol.com
Content Sourced from scoop.co.nz
Original url