Article – Suzan Mazur
Maurizio Fiorilli , a federal prosecutor in the ongoing Italian antiquities trafficking trial, does not think an army the size of the Roman Empire's is the best approach to getting Italy's Euphronios bowl and other looted ancient art back from American …


Maurizio Fiorilli, Italy's Antiquities Prosecutor Speaks
By Suzan Mazur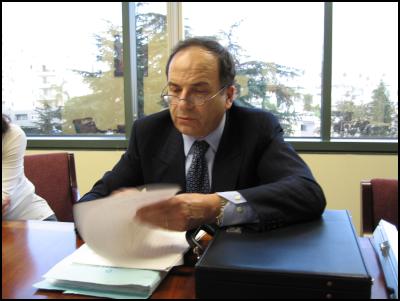 Click for big version
Italy's antiquities prosecutor Maurizio Fiorilli
Maurizio Fiorilli, a federal prosecutor in the ongoing Italian antiquities trafficking trial, does not think an army the size of the Roman Empire's is the best approach to getting Italy's Euphronios bowl and other looted ancient art back from American museums. Brainstorming creative solutions is.
So not counting previous outbursts ("THIEVES!") when reminded of some of the Metropolitan Museum of Art's arm-twisting tactics — Fiorilli has been remarkably composed about forging a strategy.
"Until now we have dreamed, we have slept," he told the Los Angeles Times recently. "Now it is time to wake up."
But it will indeed take a great deal of cleverness to lasso the slipperiest of ancient art dealers, Bob Hecht, and his "associates", who allegedly include former Getty Museum curator Marion True. Hecht and True are both on trial in Rome with proceedings currently on hiatus until April 8 as the prosecution gathers evidence.
Bob Hecht, the man who sold the Euphronios masterpiece to the Met in 1972, has defied authorities for over half a century in his exploits of the world's vanishing ancient treasures. Shockingly, the FBI has been on Hecht's case since the 1950s, but since that time it has proved as inept in reining in Hecht as in dismantling Utah's and Arizona's Mormon polygamy cults.
As the antiquities trafficking case continues to snowball, Maurizio Fiorilli's cool is even more remarkable, since he's working with the assistance of one secretary — and without paralegals to handle the grunt work.
These days, he says, he counts the moments that he sleeps. Still he has found time to answer — in English — the following questions I pitched to him about the two-pronged antiquities case, i.e., the international antiquities ring allegedly masterminded by Bob Hecht and convicted art dealer Giacomo Medici and the contested stolen art itself. The interview follows.
********
Suzan Mazur: Does Italy realize it's in the driver's seat regarding the looted antiquities in US museums? Why then transform looted objects into loans?
Maurizio Fiorilli: Yes, we do believe that the loans could prevent the illicit traffic in artistic artefacts. If the American Museums can have cultural artefacts on loan from Italy or other countries like Italy, it means that they don't need to buy them from the market and be involved in legal cases like some very famous case that you know. Also the money gained by American Museums from their donors could be better used in financing projects of legal and scientific excavations in countries like Italy and also for organising exhibitions for the items obtained on loan. This will give a cultural answer to the American needs. They'll not anymore exhibit private collections of cultural items not clearly acquired.
Suzan Mazur: Why not demand immediate return of the "complete" Euphronios?
Maurizio Fiorilli: Of course we did request the immediate and complete restitution of the Euphronios vase. But for reasons mentioned in my previous answer, we agreed with the Met for a short loan (until January, 15, 2008).
Suzan Mazur: Met Ancient Near East expert Oscar White Muscarella says he is of the "learned opinion" that the letter never did exist for the Euphronios vase, that Tom Hoving and Dietrich von Bothmer thought up the story that the Euphronios had been sitting for years in a chest in the home of a dealer in Beruit. What is your response to this?
Maurizio Fiorilli: I agree with Muscarella and with anyone like him who has some own point of view and wants to help the contest. We hope that Mr. Muscarella and anyone who wants to do it, will also be available to give formally information to ICE and the competent U.S. Attorney's Offices for the future Italian investigations. And let me say that we are very grateful to ICE and the D.O.J. for their help in our investigations.
Suzan Mazur: If you allow the Euphronios to stay for another two years at the Met, it's going to remain on exhibition in a gallery with Shelby White's "fragmentary" Euphronios. Isn't that an additional insult to Italy?
Maurizio Fiorilli: The Met has denied any responsibility for Shelby White's collection even if the collection is still on exhibition inside the Met. For Shelby White's collection, in the near future you'll see more progress of our investigation. We'll not only request the Euphronios fragments' restitution but also the restitution of other important artefacts.
Suzan Mazur: It's rumored that Shelby White is building a museum on 84th Street between 5th Avenue and Madison Avenue in New York, where it's likely the "fragmentary" Euphronios will go next, along with other treasures that she and her now-deceased husband, Leon Levy, collected. What is your response to this?
Maurizio Fiorilli: So it will be easier for us to request at ICE and the N.Y. Attorney's Office the legal seizure of the artefacts that we have acquired enough evidence on regarding their illegal acquisition and their belonging to Italian Cultural Heritage.
Suzan Mazur: Have you considered that any agreement you sign with the Met regarding the looted antiquities may be invalid since it would be signed under duress, i.e., with the Met making unreasonable conditions?
Maurizio Fiorilli: Yes, we've of course considered all the aspects related to the agreement. Right now that's what the Italian Ministry of Cultural Heritage has decided to focus on regarding future agreements with other U.S. Museums based on the consideration mentioned in my first answer.
Suzan Mazur: What are your thoughts after reading the Muscarella interviews?
Maurizio Fiorilli: I read carefully both interviews and we shall be grateful to him and also to all the people who will give a contribution to the American and Italian authorities in their investigations about the illicit traffic of cultural artefacts. As you know we have still ongoing investigations about many, many other items to be recovered not only in U.S.
Suzan Mazur: Can you say which dealers, collectors and museum curators are persons of interest at this point aside from Bob Hecht, Marion True and Robin Symes?
Maurizio Fiorilli: No, for the moment I can't because the investigations are still open.
Suzan Mazur: Can you set the record straight regarding your position on Sotheby's in all of this?
Maurizio Fiorilli: No, I can't for the same reasons of point 8 [previous answer].
Suzan Mazur: Why is Bob Hecht cooperating with the proceedings in Rome?
Maurizio Fiorilli: Why, do you have any information that shows Hecht is cooperating with the Italian authorities ?
Suzan Mazur: Can you share what the developments are regarding the Getty Museum?
Maurizio Fiorilli: As you know, a few weeks ago we met Getty's directors and a group of Getty's lawyers. We illustrated to them our requests. And not only requests related to 52 artefacts, but also to proceed with a joint consultation of all Getty's acquisition files related to items belonging to the Italian Cultural Archaeological sites. We're waiting for an answer shortly. Otherwise, we'll proceed as previously planned.
Suzan Mazur: Can you say any more at this point about your plans to press for a trial in the US?
Maurizio Fiorilli: We're hoping that this will be not necessary. Talking about the American museums, we hope to conclude shortly both Getty and Met agreements and are looking forward to having the same confrontation with the other American Museums involved in our investigations. For the private collectors this is an another story.
*************

Suzan Mazur's stories on art and antiquities have been published in The Economist, Financial Times, Connoisseur, Archaeology (cover) and Newsday. Some of her other reports have appeared on PBS, CBC and MBC. She has been a guest on McLaughlin, Charlie Rose and various Fox television news programs. Email: sznmzr@aol.com
Content Sourced from scoop.co.nz
Original url